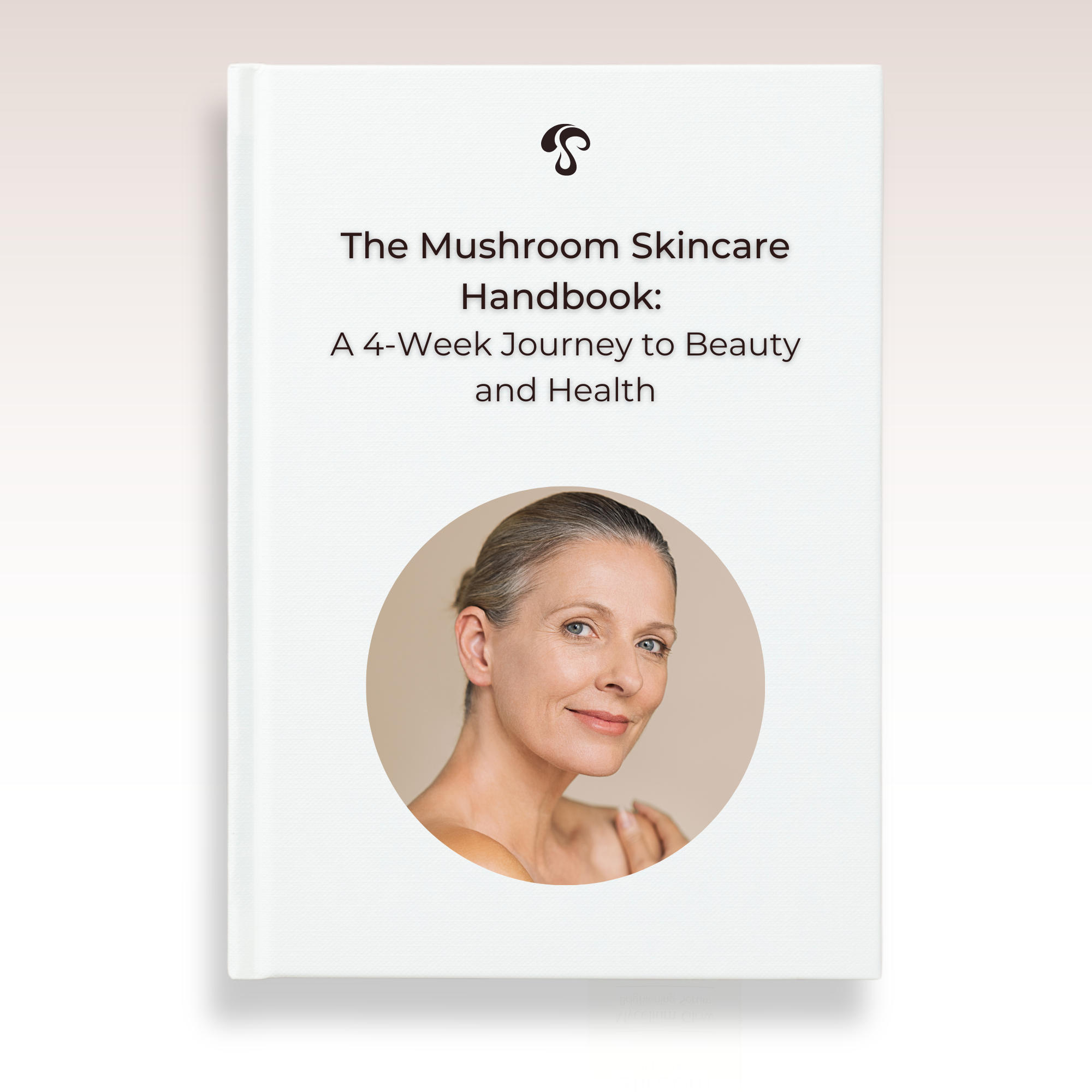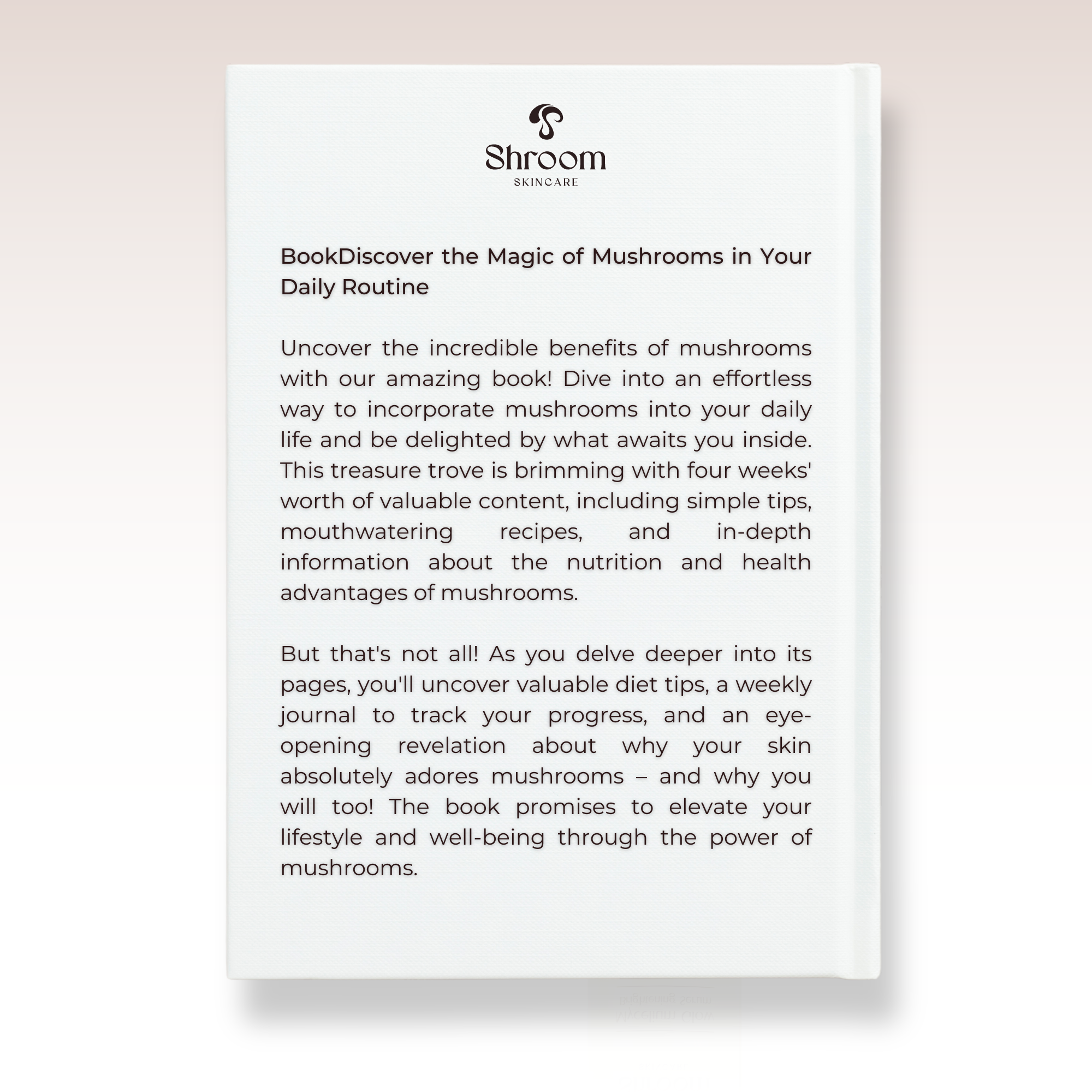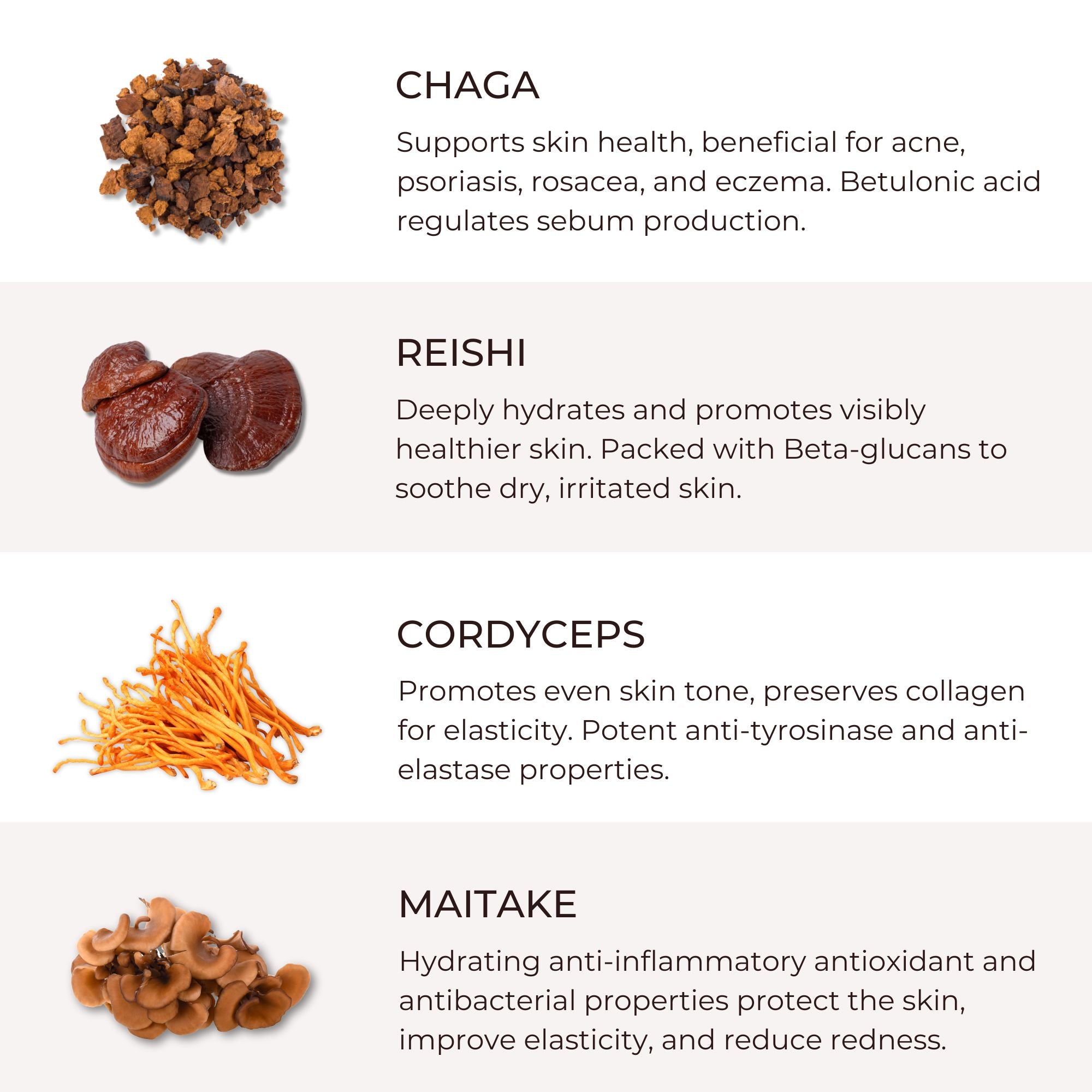 Unlock the Secrets of Mushrooms - Skin Brightening Serum Book
Mushroom Beauty Secrets - Skin Brightening Serum Book
Discover the Magic of Mushrooms in Your Daily Routine
Uncover the incredible benefits of mushrooms with our amazing book! Dive into an effortless way to incorporate mushrooms into your daily life and be delighted by what awaits you inside. This treasure trove is brimming with four weeks' worth of valuable content, including simple tips, mouthwatering recipes, and in-depth information about the nutrition and health advantages of mushrooms.
But that's not all! As you delve deeper into its pages, you'll uncover valuable diet tips, a weekly journal to track your progress, and an eye-opening revelation about why your skin absolutely adores mushrooms – and why you will too! The book promises to elevate your lifestyle and well-being through the power of mushrooms.
Enhance Your Beauty Naturally
With our comprehensive guide, you'll be amazed by how mushrooms can contribute to a glowing complexion. Their skin-brightening properties are unparalleled, and you'll learn why they are a must-have ingredient in the best skin brightening serums.
This book recommends no specific products unless they are mushroom and vitamin C serums. You won't find DIY recipes here, just valuable insights and information to transform your beauty routine.
Uncover mushrooms' magic and incredible benefits with this amazing book on skin brightening serum. Discover how to effortlessly incorporate mushrooms into your daily routine and elevate your beauty naturally.
Throughout the book, the importance of skin brightening serum and the wonders of mushrooms are emphasized. You'll find skin brightening serum mentioned throughout the book, emphasizing the power of mushrooms and vitamin C in promoting a radiant complexion.
As you progress through the book, you'll be intrigued by the combination of mushrooms and vitamin C. This powerful duo appears multiple times, highlighting their effectiveness in rejuvenating and brightening the skin.
Don't Miss Out on This Incredible Opportunity
Join the mushroom beauty revolution and enhance your life with the power of mushrooms. Unlock the secrets to glowing skin and overall well-being with our comprehensive guide. Embrace the magic of mushrooms and experience the transformative benefits they offer.
Unlock the Secrets of Mushrooms - Skin Brightening Serum Book
BENEFITS
Harnesses the power of mushroom extracts to brighten and tone the skin
Provides a potent antioxidant shield against free-radical damage
Includes additional antioxidants from jojoba seed oil, kalahari melon oil, rosehip oil, olive oil, and Vitamin E
Addresses multiple skin concerns such as fine lines, dryness, redness, inflammation, and uneven skin tone
Clean formulation free of parabens, formaldehyde, phthalates, and mineral oils
Offers superior benefits beyond traditional Vitamin C serums
Experience transformative effects for your skin with our Mushroom-Brightening Serum
INGREDIENTS
Suitable for all skin types, including sensitive skin. The serum is lightweight and absorbs quickly, leaving no residue behind.
Ingredients: Simmondsia Chinensis (Jojoba) Oil, Squalane, Rosa Canina (Rosehip) Oil, Citrullus Lanatus (Watermelon) Seed Oil, Helianthus Annuus (Sunflower) Seed Oil (and) Grifola Frondosa Fruiting Body Extract Maitake Mushroom (and) Ganoderma Lucidum Extract Reishi Mushroom (and) Inonotus Obliquus Chaga Mushroom Extract (and) Cordyceps Sinensis Extract, Tetrahexyldecyl Ascorbate (VC), Tocopheryl Acetate (VE), Fragrance
HOW TO USE
Directions: Apply A Few Drops To Finger Tips. Gently Press Into Clean Skin Either On Spots For Spot Reduction Or On The Entire Face, For A Full Glow. Use At Night Only.
We recommend spot testing before using.
Why should you use it at night? Vitamin C is an ingredient that reduces hyperpigmentation and could increase senisitization to the sun. This causes hyperpigmentation. In order to break the cycle, we recommend applying at night only.
FAQS
Frequently Asked Questions

1. What are the benefits of using Mycelium Glow Brightening Serum?

Mycelium Glow Brightening Serum effectively addresses various visible signs of aging, including dryness, dullness, dark spots, loss of firmness and elasticity, inflammation, and uneven texture. Its powerful formulation is designed to combat these concerns and promote a more vibrant and youthful complexion.

2. Can mushrooms really provide all of these benefits?

Absolutely! Mushrooms are truly incredible. While we have long recognized their dietary benefits, they also possess remarkable properties for skincare. Let's explore the mushroom extracts we incorporate in our serum:

- Reishi mushrooms: Hydrating and brightening, rich in niacin for promoting an even skin tone.

- Maitake mushrooms: Plumping and smoothing effects, rich in Vitamins B and D to stimulate collagen production and elasticity.

- Chaga mushrooms: Clear and protect the skin with kojic acid to combat acne-causing bacteria and melanin and superoxide diamatuse to shield against environmental damage.

- Cordyceps Sinensis mushrooms: Soothing and calming, containing cordycepin to prevent inflammation and adenosine to reduce redness.

3. Are there any other active ingredients?

In addition to the powerful mushroom extracts, Mycelium Glow Brightening Serum features an extra boost of brightening through Vitamin C. It also contains a blend of antioxidant-packed natural oils, including jojoba seed oil, kalahari melon oil, rosehip oil, olive oil, and Vitamin E.

4. What is the percentage of Vitamin C in the serum?

Our serum contains 3% Tetrahexyldecyl Ascorbate, a super stable form of Vitamin C that is suitable for all skin types, even sensitive skin.
It's important to note that the effectiveness of Vitamin C in a product is not solely determined by its percentage. Factors like the specific form of Vitamin C, concentration, and intended use all contribute to its potency and effectiveness.

5. Is it made with natural ingredients?

Yes, we take pride in the fact that Mycelium Glow Brightening Serum is over 97% natural. It is also preservative-free, silicone-free, non-comedogenic (won't cause acne), vegan, and cruelty-free.

6. Is Mycelium Glow Brightening Serum an oil?

Mycelium Glow Brightening Serum is both an oil and a serum. Its lightweight, non-comedogenic oil base, which includes a blend of natural oils and Vitamin E, gives it an oil-like texture while containing active ingredients that classify it as a serum.

7. How should I use it?

After cleansing and toning, gently pat a few drops of the serum onto the skin. Start with a small amount as a little goes a long way. It can be applied in the morning and evening on the face, neck, and body.
Use it all over or specifically target trouble spots like dry patches, dark marks, or inflammation. It also works as an excellent primer for makeup, leaving a radiant glow on the cheekbones and collarbones.
For extra benefits, massage a few drops onto hands, elbows, or feet before bed and let the magic mushrooms work overnight.

We would love to hear how you use Mycelium Glow Brightening Serum! Feel free to drop us a line at support@shroomskincare.skin or tag us on Instagram @shoom.skincare.
Mind-Blowing Mycelium Glow: Channel's Jaw-Dropping Discovery After Just One Week!
Channel is 52 years old woman and was surprised by the results after using Mycelium Glow Brightening Serum for a week!
Learn More
If you're searching for the next big thing in skincare, look no further than Mycelium Glow Brightening Serum. Infused with the power of mushrooms, vitamin C, rejuvenating properties, antioxidant benefits, and a paraben-free clean formula, this product is designed to transform your skin.
Mushrooms and Vitamin C: The Heart of Mycelium Glow
Mushrooms like Maitake, Reishi, Chaga, and Cordyceps are well-known in traditional medicine for their healing and rejuvenating effects. Mycelium Glow harnesses these incredible ingredients, adding the potency of vitamin C for a brightening serum that's unlike anything else on the market.
Why mushrooms, you may ask? These extraordinary fungi are packed with antioxidant properties that fight free-radical damage. Combined with vitamin C, they offer unparalleled skin rejuvenation and brightening effects. Mycelium Glow delivers this in a clean, paraben-free formula that caters to all skin types.
Rejuvenating Your Skin with Mycelium Glow
Rejuvenating your skin has never been more accessible or effective. Mycelium Glow's Brightening Serum delivers a concentrated dose of mushrooms and vitamin C to target dullness, fine lines, and uneven skin tone. Its clean, antioxidant-rich formula ensures that your skin receives only the best.
The rejuvenating powers of Mycelium Glow extend beyond simple hydration. This brightening serum stimulates collagen production, enhancing skin's natural elasticity and vibrance. If you're tired of products filled with chemicals and artificial additives, the paraben-free and clean approach of Mycelium Glow is a breath of fresh air.
Antioxidant Protection for Healthy Skin
Antioxidant protection is crucial for maintaining youthful, healthy skin. With Mycelium Glow, you're not just getting a run-of-the-mill product. The combination of mushrooms, vitamin C, and other natural ingredients delivers a potent antioxidant shield that's second to none.
Paraben-free and clean, Mycelium Glow promises a skincare experience that's both effective and conscientious. With its unique blend of brightening serum components, including rejuvenating mushroom extracts and vitamin C, this product stands out as a genuine innovation in the skincare world.
In conclusion, if you're seeking a product that embodies the best of nature and science, look no further than Mycelium Glow. The Brightening Serum, infused with mushrooms, vitamin C, rejuvenating properties, antioxidant benefits, and a clean, paraben-free formula, is ready to transform your skincare routine.